Marcello Vitali-Rosati
Edit lead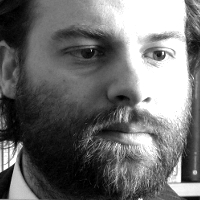 Marcello Vitali-Rosati is Associate Professor in the Department of French Literature at the University of Montreal and holds the Canada Research Chair on Digital Textualities. He studied Philosophy and Literature and holds a Ph.D. from the University of Pisa (Italy) and the University of Paris IV La Sorbonne. Previous publications include several articles and four books: Riflessione e trascendenza: Itinerari a partire da Lévinas (ETS, 2003), Corps et virtuel: Itinéraires à partir de Merleau-Ponty (Harmattan, 2009), S'orienter dans le virtuel (Hermann, 2012), and Égarements: Amour, mort et identités numériques (Hermann, 2014).

He has taught at the Foreign University of Perugia (Italy) and at art and technology schools in Paris.

His research focuses on developing a philosophical reflection on the changes brought by digital technologies - the idea of digital identity, the concept of the author in the era of the Web, the forms of production, publication and diffusion of online content, and the notion of "editorialization".